Of men and masculinity
Organisations should encourage their staff not to reproduce gender stereotypes as they rarely lead to improvements in the workplace. Be it the macho type or the feminine ideal, a new study from Harvard Business School highlights the hidden costs of gender clichés.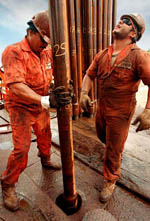 The research focused on masculinity and how it affected processes in the workplace. In dangerous work environments, such as mines or oil rigs, men tend to act infallibly to impress their peers, an attitude which is often conducive to a disrespect of safety procedures.
Robin Ely, a Harvard professor who led the study, says this is typical of organisations which accept social gender stereotypes and replicate them in the workplace. This is why she decided to focus on oil platforms. "The workforce is largely male, yet offshore oil platforms function safely and effectively," says Ely.
"This therefore raised two questions: how do men construct masculine identity in high-hazard workplaces that emphasize safety and effectiveness, and what organisational features support and sustain these efforts?"
What the research found is that a framework designed to encourage safety and effectiveness also had the unintentional consequence of releasing men from the social imperatives of manly behaviour. This was made possible thanks to three conditions.
There had to be a greater purpose in the organisation that allowed men to look beyond their own behaviour and allow the shift of attention from self to organisation. The institution also had to provide 'psychological safety' whereby individual would not be penalised by the team for showing vulnerability such as the willingness to admit a mistake or seek help.
Finally, organisations should seek to decouple masculinity and competence. In other words, displays of toughness, bravado or strength should not be encouraged. Instead, organisations should promote team work, good communication skills and promoting safety in the workplace.
"Our findings point to the mutability of masculine identity and suggest how organisations can disrupt its negative elements by changing norms and work practices to the benefit of individual workers and the organisation as a whole," says Ely.
Ely also concludes that the findings of the study are applicable to corporate environments - where jobs such as lawyer, manager or scientist very much carry stereotypical male traits - and to women as well. In the same way that it is unhelpful to perpetuate 'male' characteristics, pushing 'female' attributes in certain jobs can be equally counter-productive.
"Such debates focus on the wrong question, because how people enact their gender identities may be more consequential than what traits they display," concludes Ely.
Source: Manly men, oil platforms and breaking stereotypes
Sarah Jane Gilbert
Harvard Business School Working Knowledge, Nov 27 2006
Review by Emilie Filou