Merkel: 'Let's get fiscal'
The German chancellor has set out her plans for closer fiscal unions between eurozone countries.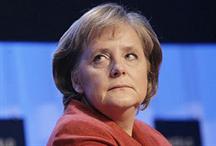 We all know Team Merkel's core philosophy is that to save the euro, eurozone countries come together and introduce measures for a tighter fiscal union – but now the German chancellor has set out exactly what that would mean. In a speech to the Bundestag, Merkel said that the EU treaty must be changed to create closer ties between eurozone countries, allowing them to pass judgement on each other's spending plans. It wouldn't, she was keen to emphasise, mean Brussels gets control of individual countries' budgets. But not everyone is convinced…

Merkel will present her plans to French president Nicolas Sarkozy on Monday, who is also keen to come up with measures for a 'stability union'. They'll then take their collective thoughts to an EU summit next Friday, which shouty headlines earlier in the week billed as the 'last chance' to prevent the collapse of the euro. The other 15 members of the eurozone are widely expected to get behind the scheme– so Merkozy clearly isn't reckoning on another Greek referendum-esque rebellion.

Among the measures expected to be included will be a rather Orwellian-sounding mechanism to 'enforce budget discipline', punishing anyone that doesn't fall into line. That'll mean governments are given the power to veto national budgets if they're not deemed to be up to scratch. And although we know the powers would be enforced by the European Court of Justice, there's no word on exactly what the 'punishment' will be. Although the thought of Angela Merkel enforcing budget discipline might get some rather hot under the collar...

Merkel was keen to impress just how unprecedented these measures are: 'Anyone who said a few months ago that we… would be taking very serious and concrete steps toward a European stability union, a European fiscal union, toward introducing (budgetary) intervention in Europe would have been considered mad. [But] we are not just talking about a stability union. We are beginning to create one.'

Nevertheless, when you've got a group of the nation's most powerful leaders in a room together, there are bound to be disagreements. Thus, she took the opportunity to repeat her insistence that any sort of common liability for one another's debts (ie. eurobonds) would be out of the question. Which won't go down terribly well with Sarkozy, who's all for the idea.

In fact, considering the sheer level of responsibility they bear, things seem to have become downright bitchy between Europe's power couple. With (presumably) a sideways glance at Sarkozy, whose impatience is well-known to annoy her, Merkel also pointed out that saving the euro would be a long, slow process. 'The one who starts fastest isn't necessarily the most successful,' she said. Meow.
- Image credit: