Merkozy's 'crunch lunch' to decide fate of euro
German Chancellor Angela Merkel and French Prime Minister Nicolas Serkozy thrashed out a eurozone deal over steak frites.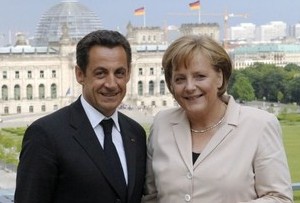 When these two step out for lunch, the whole of Europe watches. While Sarkozy and Merkel primped in preparation for their Euro-tastic mega luncheon session on Monday morning, the markets jumped. As of 10:30am, Germany's DAX gained 0.9%, the CAC was up 1%, and Italy's bourse saw the greatest gain at 2.1%. The FTSE is also up, albeit tailing behind other markets with a 0.6% increase.
The Merkozy duo are under intense pressure to come up with some practical and efficient ways to prop up the euro, help out debt-laden countries and facilitate the departure of defaulting EU nations should the need arise. Hardly appetite-whetting stuff. MT can't be at the meeting, but we imagine their lunch will go a bit like this:
Starter
Merkel: A Red Bull [She's skipping the starter after Berlusconi's jibes about her weight]
Sarkozy: French onion soup, but hold the croutons - we're in a recession, n'est-ce pas?