Merlin is opening a Legoland in Shanghai
The theme park operator is unveiling the plan as part of Chinese president Xi Jinping's state visit.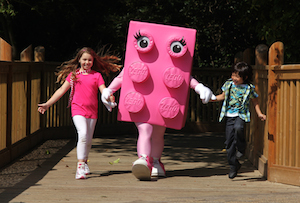 Everyone wants a piece of the Chinese president, with theme park operator Merlin Entertainments unveiling plans today to expand in the Middle Kingdom as part of Xi Jinping's right royal state visit to the UK.
The FTSE 100 company is opening a Legoland in Shanghai as part of a joint venture with China Media Capital (JVs being increasingly compulsory for western firms wanting to enter successfully Chinese market). It already has four Madame Tussauds across China and the Chang Feng Ocean World aquarium in Shanghai and had announced three other new openings for the next 18 months.
Now, as part of this deal, Merlin is aiming to roll out other Dungeon and Legoland-themed attractions and new brands like Kung Fu Panda Adventures, based on DreamWorks' animated film (one would hope its local partner knows how to sell a western version of Kung Fu to the Chinese).