Merlin shares start their market ride with a 12% rise
Shares in the Alton Towers owner have made a courageous start in their stock market debut.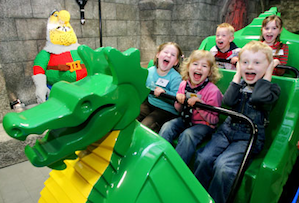 Much like some of the rides found in Merlin Entertainment's theme parks, shares in the company have shot off at the start, and with a few minor bumps, are making a steady incline – up 12% on the opening price of 325p per share and valuing the company at £3.5bn (investors are presumably hoping they don't experience a rollercoaster-esque drop any time soon).

The Madame Tussauds and Legoland owner made its stock market debut yesterday, the 325p starting price soon rose to 355p in early conditional trading but it has levelled back down at 344p.

The company, the second largest visitor attractions operator in the world after Disney, has sold a 30% stake in its business raising an estimated total of £957m. Apparently, £200m of the booty will be used to pay off debts (an in-vogue reason to float, eh, Foxtons?)

Merlin, which called-off its plans for a listing back in 2010 due to market volatility, found its shares were oversubscribed this time - good things do come to those who wait. It closed the offering early and according to Reuters, lots of institutional investors were left empty handed, (their kids presumably kicking off having missed out on the theme park discount offered with shares).

Merlin said 87.5% of the sale had gone to institutional investors, with retail investors allocated 12.5% of the stake.

Those not missing out, are the 2,000 odd employees at the company who have shares. Nick Varney, veteran chief exec of the entertainment giant, is set to receive around £8.5m through the sale of shares (although he'll retain £20m worth – canny).

Kirkbi, the Danish family which owns the Lego brand, along with private equity firms Blackstone and CVC Partners are three of Merlin's biggest investors and they are all believed to be reducing their stakes in the company as well.

Cork popping all round it appears.

'When we bought Merlin in 2005, it had annual sales of less than £50 million and a strategy to roll out its brands across Europe,' said Joe Baratta, global head of private equity at Blackstone.

'Today, it is a global industry leader, operating nearly 100 attractions across North America, Europe and the Asia-Pacific, and its annual revenues exceed £1bn. The success of its strategy and remarkable transformation is down to Merlin's visionary management team and dedicated employees whom we backed with substantial capital investment. As major shareholders in the business, we look forward to supporting them in the next chapter in the Merlin success story.'

We bet you do mate.

Meanwhile, across the pond in New York, NYSE has been bathed in the afterglow of Twitter's auspicious market debut. Somewhat predictably, shares in the micro-blogging site soared after the starting bell, ending at $44.90 each - a whopping 73% up from its initial price.

Following yesterday's fanfare (NYSE had huge blue bird banners draped across its classical façade all day and Sir Patrick Stewart made a puzzling appearance) Twitter, or TWTR to give it its new ticker, is now valued at around $31bn (£19bn).

Chief executive Dick Costolo (once an improv comedian - who knew?) took the opportunity to defend Twitter and its inability to turn a profit so far.

'There's nothing structural about Twitter that prevents us from having the kind of margin profiles of our peer group,' he told CNBC.
- What is it about recently floated chief execs that makes them turn into management speak robots?

'We are investing for the long term. We think this is a long-term company, a company for which there is a fantastic use case for every person on the planet.'

Lofty ambitions from Costolo, let's hope he can live up to them.