Merrill gets $5bn Christmas present
Merrill Lynch may find $5bn in its stocking when it wakes up on Tuesday – it's apparently set to jump on the 'sell a stake to the east' bandwagon.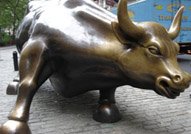 Temasek, the Singaporean state investment fund, is reportedly in negotiations with Merrill about buying a $5bn stake (to go with its stakes in Barclays and Standard Chartered). Several of the banks' rivals have already been filling their coffers with eastern cash, as they look to bolster the balance sheet after losing their shirts on dodgy sub-prime mortgage investments.
Merrill's been hit harder than most. The Wall Street giant has already written off $8bn – forcing the 'resignation' of boss Stan O'Neal – and analysts seem to think that there could be another $8bn loss to come, taking the total to about $16bn. So it's not surprising that its piggy-bank is running a little low. And in looking east for funds, Merrill's in good company: UBS, Citigroup and Morgan Stanley have all gained rich new backers from that part of the world in recent weeks, with state money piling in from China, Abu Dhabi and Singapore.
It's bound to provoke claims that Wall Street is selling the family silver – although the President, for one, seems unconcerned. 'I'm fine with capital coming in from overseas to help bolster financial institutions,' he told a White House press conference. Not like President Bush to be a picture of liberal moderation…