Merv leaves BoE on a high note
The governor of the Bank of England, Mervyn King, has decided that he will leave on a positive note, with his final set of quarterly forecasts suggesting things are looking up.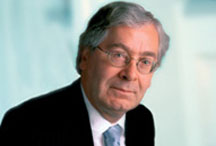 If you have paid attention to the Bank of England or Merv's speeches over the last few years, you'll have noticed that he's always popping up to revise down growth figures. Or he'll talk some vagueness about 'the rocky road ahead' or a 'zig-zag recovery' (whatever that is) without telling us anything we didn't already know. But today, for once, the bank said the future looks bright! Huzzah!
In his final Quarterly Inflation Report press conference before he steps down from the post next month, Merv said that the economy will grow faster this year, and inflation will reach its 2% target within two years. He added: 'That's the first time I've been able to say that since before the financial crisis. This hasn't been a typical recession and it won't be typical recovery. Nevertheless, a recovery is in sight.'
Of course, he also took the opportunity to reflect on his own time as governor over the last 10 years. 'After 89 press conferences, including 82 under the banner of the Inflation Report, I have had my say. Now it is over to the next generation to have theirs.'