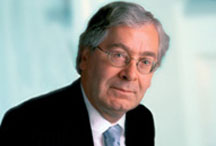 Mervyn King a 'disaster' as BoE Governor
Quote of the day: 'The current appointment in my view has been a disaster, so it's important to get a better man this time round.' Standard Life head of equities David Cummings was pulling no punches in his analysis of Mervyn King's term as Bank of England governor. The relationship between King and the City has long been fractious as the governor attempted to force the financial sector to increase capital buffers and up lending at the same time. Luckily for the City, there's about to be a new sheriff in town...
Published: 01 May 2012
Last Updated: 09 Oct 2013
.
Find this article useful?
Get more great articles like this in your inbox every lunchtime