Mervyn King tells banks: 'Further losses are inevitable'
Sir Mervyn King, outgoing governor of the Bank of England, has warned the UK banking sector that it will have to accept many more losses and writedowns before business as usual is resumed.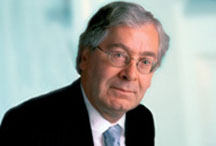 Speaking at the South Wales Chamber of Commerce in Cardiff yesterday, King had (more) bad news for bankers. He warned against repeating the mistakes of the 1930s when the UK's financial sector convinced itself that debts would be paid back. Debts that were written off in the end, to the detriment of the whole banking sector.
'In the 1930s, faced with problems of sovereign and other debt similar to those of today, the pretence that debts could be repaid was maintained for far too long. We must not repeat that mistake,' he said. 'I am not sure that advanced economies in general will find it easy to get out of their current predicament without creditors acknowledging further likely losses, a significant writing down of asset values and recapitalisation of their financial systems. Only then will it be possible to return to a more normal provision of the vital banking services.'
What's that? The collective thump of many hearts sinking in the banking sector?