Metro Bank is on the march as lending jumps 146%
The challenger bank is attracting large numbers of small businesses.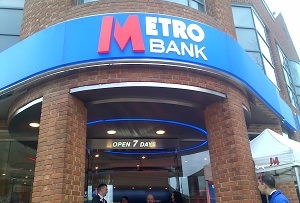 Metro Bank is cementing its position as the main high street opposition to the big banks, with lending and deposits both more than doubling in the past year. Total lending grew to £1.4bn in the three months to September – a 20% increase in the quarter and 146% growth from this time last year. Total deposits are now more than £2.3bn, 118% higher than 12 months ago.

'We're extremely proud of another quarter of strong growth in lending, deposits and customer numbers,' its chief executive, Craig Donaldson, said today. 'The British people need a bank that puts their needs first and offers the best in service and convenience; they need choice on the high street, and we are here to provide that choice.'

The bank reported a loss after tax of £9.4m, a slight improvement on £9.9m in the previous quarter, which it said represents investment in people, technology and infrastructure. Founded in 2010, it was the first new high street bank in Britain in a century, and now has 27 stores (they don't like to call them 'branches') across London and the south-east.

It has capitalised on discontent with the big banks, offering longer hours, instant account opening and more quirky perks like a 'pet-friendly' policy in branches. It has particularly targeted small businesses, many of whom have struggled to get funding from the big banks, and which now account for almost half of its total lending.

Metro Bank still remains a minnow in comparison to the likes of Lloyd's and RBS, but the figures show it is certainly drawing the crowds.