Metro Bank - taking on the big bank monsters
MT FEATURE: With the reputations of the Big Four in tatters, banks like Metro and Handelsbanken offering proper customer service and local decision-making. Can they really make a killing out of current accounts?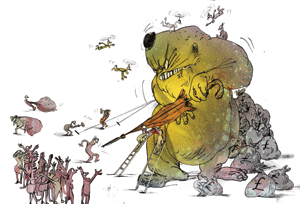 At the bustling confluence of High Holborn and Southampton Row, between the bright lights of London's theatreland and the western extremities of the City, lies one of the rarer retail species to be seen on the high street. Occupying a prime corner site, with an expanse of plate glass worthy of a small department store and bold red, white and blue branding to match, it looks for all the world like an electronics discounter, or perhaps one of the brasher breeds of estate agent.
One of 12 such outlets dotted across the south-east, it is in fact the HQ branch of Metro Bank, the first new bank to be granted a licence to operate in the UK in over a century. The thematic distance from any of the Big Four (Lloyds, Barclays, RBS and HSBC) increases inside. Airy and furnished like a hotel lobby, the interior has no security screens between customers and counter staff. Drinking bowls and complimentary dog biscuits are laid on for pet-loving punters; but, for anyone used to 'banking as usual', even this singular quirk is eclipsed by the presence of plenty of cashiers - and no queues.
The similarity to a retail multiple is no coincidence, says Metro's chairman, Anthony Thompson. 'We are retailers, we have stores rather than branches. And, unlike the other banks, we actually want our customers to come in. The view of some other banks is that it is cheaper to serve customers by phone or online - their holy grail is their cost/income ratio, but you can't cost-cut your way to growth.'