Michael Acton Smith: I'm stepping down as CEO of Mind Candy, but that doesn't mean we're IPOing
LAUNCHPAD: The man behind Moshi Monsters quashed rumours he's leaving ('if you cut me I bleed jellybeans'), but told MT he wants a more creative role.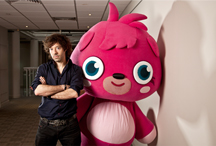 Michael Acton Smith, the brains behind Mind Candy which created kids' online gaming sensation Moshi Monsters, has announced he's planning to step down as chief executive (and have more time to be on Dragons' Den...?).

In a video posted on YouTube, he quashed rumours he's leaving the company ('if you cut me I bleed jellybeans. I'm not going anywhere') - but added that he's more suited to a creative role. 'I've got notebooks full of ideas', he said.
So who will take the reins at Silicon Roundabout's favourite company? Divinia Knowles, its current chief operating officer (and an alumna of MT's 35 Women Under 35), who joined the business eight years ago will take on the appropriately American-sounding role of 'president'. The company said it is looking for a CEO (one of the Moshlings, perhaps?).
IPO rumours have been swirling around Mind Candy for ages now: results for 2012 filed with Companies House show profits of £10m on revenues of £46.9m, up 60% from the year before. A CEO like Acton Smith - creative, eccentric - making way for someone with a more corporate focus is a classic pre-IPO move. Does this mean the Moshi Monsters are about to find themselves under public scrutiny?