Michael O'Leary on cloud nine as Ryanair's profits hit £398m
Budget airline Ryanair has smashed targets with record pre-tax profits in the second quarter, up 23% on last year.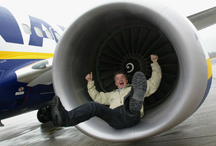 We hope Ryanair's chief financial officer Howard Millar danced a little jig when he downed his calculator and realised profits were up over £70m on last year. Yet again, Ryanair has outstripped market expectations. O'Leary has now revised his annual profit forecasts up 10% telling the Today programme this morning that, hell with the recession, he plans to double the size of the airline over the next decade.

Despite the spiralling cost of fuel and falling consumer confidence, Ryanair has managed to increase revenues per customer and achieve robust growth. It's not hard to see how: between 'boarding pass reprint' fees, luggage charges, hefty currency conversion rates and additional costs for paying by credit or debit card, the airline is in danger of losing its 'budget' moniker. Whole websites have been created to help hapless passengers avoid paying up to £2,500 extra (based on a family of six) in hidden fees.

Those extortionate paninis and 'sorry, your hand-luggage is the wrong shape' penalties have really paid off. 'Ryanair's balance sheet remains one of the strongest in the industry with €3.1bn in cash despite returning €931m to shareholders over the past three years,' announced O'Leary today. But don't expect any freebies on your next trip to Mallorca to thank you for your loyalty and frequent flights. Instead, Ryanair's parsimonious CEO is grounding up to 80 aircraft over the winter to cut on fuel expenditure.

Despite our jibes, Ryanair remains one of the cheapest ways to fly. While the Ryanair tagline 'the world's favourite airline' may be over-egging the pudding somwhat, there's little doubt that the firm will post bumper results in the next quarter, reduced fleet or no, with cash-strapped passengers jetting off to warmer climes in a daze of neon yellow and royal blue.