Michael O'Leary: 'Holidays are a complete waste of time'
You live and you learn: The outspoken chief executive of Ryanair on why he's due a pay rise, why customers make him angry and why holidays are a waste of time.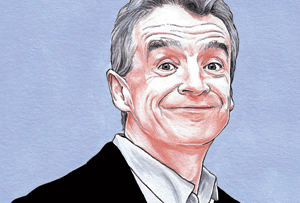 I make mistakes almost on a daily basis. Getting a job in the airline industry would be one; qualifying as an accountant would be another. Failing to be good enough to play for Man City is probably the greatest.
I'm paid about 20 times more than the average employee and I think that gap should be wider. I probably work 50 times harder. I was paid €1.2m last year for carrying 80 million passengers. Aer Lingus's boss [Christoph Mueller] got €1.3m for carrying nine million passengers. I think I'm the most underpaid and underappreciated airline boss in Europe.
We're bidding again for Aer Lingus. In the six years Ryanair has had a 30% stake, Aer Lingus has lost €90m and the share price slobs along at 60 cents. We can run it better, but that's not setting the bar very high.