Michael O'Leary to take a vow of silence
The Ryanair boss has admitted he is bad for the brand and will withdraw as the airline's public face.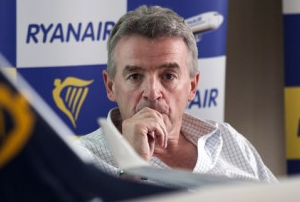 Following 20 years of swearing, wearing ridiculous felt-based outfits, pointing at Ryanair plane models of varying sizes, leering at ladies and telling customers where to go - Michael O'Leary has come to the conclusion his image is bad for the brand and has decided to take a step back from the spotlight. The chief executive will let someone else become the face of the budget airline.

While it might be good news for the airline, which has had a series of bad financial results and a drop in customer numbers; it is a bad day for business journalism. O'Leary's antics have been the subject of some of the most colourful and entertaining articles ever to grace the business sections of the UK press - 'tis a black armband day for headline writers everywhere.

O'Leary has said he will withdraw as the spokesperson for the harp-winged carrier next year. 'I'm getting in the way,' said the veteran chief executive.

The news comes with an announcement about an increase of flights to a number of key European cities – the move is thought to be part of the drive to attract more of the businesses market (an area arch rival EasyJet is flourishing in). O'Leary reportedly doesn't think his cheeky Irish charm goes down well with the UK's business flyers.

'This is where it has to change. I'm getting in the way of the brand stuff,' he admitted.

Ryanair, which had enjoyed 20 years of steady growth until this year, issued its first ever profit warning in September – prompting some intense naval gazing by the airline. With alarm bells ringing, it embarked on a charm offensive – changing some of its most hated rules and regulations and lowering certain 'hate inducing' fees.

In contrast to Ryanair's (mis)fortunes, rival EasyJet has been hitting the ball out of the park all year – its shares have risen 75% since the start of 2013 and it joined the FTSE 100 in March. Earlier this week it announced a 51% rise in pre-tax profits and a 4% rise in passenger numbers.

Displaying some uncharacteristic humility, Michael O'Leary admitted EasyJet had won the latest round, 'EasyJet has wiped the floor with us, with the website and modest customer improvements,' he said yesterday. [Modest, not to be confused with successful].

Not to sound too defeatist however, O'Leary declared it would only take Ryanair three to six months to catch up with its orange-hued competitor – confident his range of changes will win back passengers.

'We can learn from the bits they have done well.'

First thing to copy on the list of 'what EasyJet has excelled in' is allocated seating. So as we bid farewell to O'Leary's outrageous verbal gaffes (sniff, sniff) we can also say 'see ya' to the pre-flight fisticuffs over window seats.