Michael Porter: The competitive strategy thinker
To mark 50 years of MT, here's the third in a series looking back at the best business brains since 1966.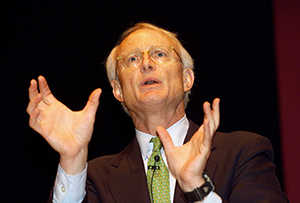 He hasn't won any Nobel Prizes and in a world full of soundbite academics his works are famous for their dry unquotability, but Harvard Business School's Prof Michael Porter is probably the most influential business thinker of the last 30 years anyway.
His era-defining ideas have shaped (and continue to) the strategy and competitiveness of countless organisations, from SMEs to corporations, from charities and NGOs to governments. He is consistently the most cited author in his field, and his definitive (if unimaginatively titled) bestseller Competitive Strategy has been reprinted over 60 times and translated into 19 languages since it first appeared in 1980.
He is probably best known for his 'Five Forces' model of the competitive pressures that act on companies, and his works have become so axiomatic that even if you have never heard of Porter or read any of his books, he is likely to be embedded in your thinking all the same. Ever talked about barriers to entry? Competitive advantage? Low-cost versus differentiated business models? It's all Porter.