Microfinance comes of age
With Bangladeshi economist Mohamed Yunus of the Grameen Bank receiving the Nobel Peace Prize last Sunday, it seems that microfinance is finally getting the recognition it deserves.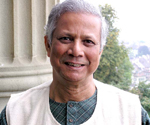 Mr Yunus started Grameen Bank with $27 out of his own pocket in 1976. Thirty years on, he has 6.6 million borrowers. For most, microfinance has provided a lifeline, be it with loans to start up a business or pay for education, financial services to small businesses or facilities for savings.
Nearly three billion people could benefit from microfinance services but only about 500 million currently do, half of them in South Asia. Africa is the next priority for most of the organisations involved in microfinance.
"We're definitely committed to the sector," says Andre Laude, principal investment officer at the International Finance Corporation (IFC), the private sector arm of the World Bank. "We want to put more resources behind it, and one clear priority for us is to focus on Africa. That's where we need to create capacity on the ground."
But the real challenge to getting microfinance off the ground is facilitation rather than funding. "Building domestic markets and local intermediation capacity between savers and borrowers requires more technical and managerial inputs than financial ones," says Elizabeth Littlefield, director of the Consultative Group to Assist the Poor.
This is where the Nobel Peace Prize matters. It put under the spotlight a process which reinserted economic pariahs into society and is making a difference at ground level. In their statement, the Nobel Committee explained: "Lasting peace cannot be achieved unless large population groups find ways in which to break out of poverty."
Source: Microfinance comes of age
World Bank
Review by Emilie Filou