Microsoft added 'Facebook' to their interests
It's not often Microsoft gets one over on Google these days, so Bill Gates and co. will have a smile on their faces this morning after the US software giant beat off competition from its biggest rival to land a minority stake in social networking phenomenon Facebook.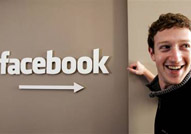 Of course, Bill's joy will be nothing compared to that of Mark Zuckerberg, Facebook's 23-year-old founder and chief executive. Microsoft (which already had a limited advertising relationship with the site) is paying $240m for a 1.6% stake, which means Zuckerberg's baby is now valued at an eye-watering $15bn. Turning down Yahoo's $1bn offer for the whole company last year was clearly a wise move.
This is all very well – but are we not seeing history repeat itself? Less than a decade after the internet bubble, we're again seeing an established player paying an inordinate sum for a trendy website that makes no money. Facebook has been open to the public for just 13 months; its profits last year were a relatively measly $30m, so today's valuation represents a 500m times multiple. It all sounds a bit familiar…
So what exactly does Microsoft think it's getting for this hefty sum? Although Facebook is completely free, it has already accumulated nearly 50m users worldwide. Many of these people use the site as their homepage, and now that Facebook has allowed third-party developers to write applications for it, it could become their main internet portal. Microsoft will now get exclusive rights to sell advertising to all these people.