Microsoft boss Satya Nadella's $84m good pay karma
The Microsoft boss says he has been 'lucky' with his pay. He might not say the same about women anymore...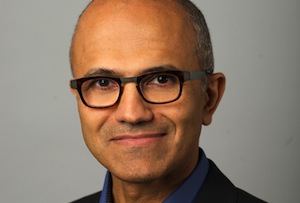 The planets must have been aligned just so for Microsoft boss Satya Nadella when he was awarded his latest pay package, worth a mind-bending $84.3m (£52.2m) according to a company regulatory filing late on Monday night.

The confirmation of the payout, which includes $59.2m of shares that will vest over seven years, came just 10 days after Nadella caused a helluva storm by suggesting it was 'good karma' for women to have 'faith that the system will actually give you the right raises' (in other words, nice girls don't ask for a pay rise).

And he's still having to atone for those not-so-choice words. 'The last week and a half or so have been a learning and humbling experience for me. I was wrong in the way I answered that one question,' he told a public event in San Francisco earlier on Monday, according to the FT.

Nadella then tried to excuse himself, by saying he had been 'lucky' with his own pay (you don't say), adding, 'I took my own experience… and sprung it on half of humanity.'

He was also paid a $13.5m retention award last year when his predecessor Steve Ballmer announced he was stepping down. The enormous stock award could also rise by another $29.6m, if Microsoft's shareholder return ranks in the top 20% of S&P 500 companies for each of the next five years. That makes Nadella's first year pay as chief exec more than the total paid out to Ballmer and Bill Gates in the preceding 39 years.

They were both already big shareholders, but nonetheless, the numbers are eyewatering. Ballmer only earned around $16m in total during 14 years in the top job, according to the FT. Nadella's expected annual pay is $18m, of which $13.2m will be in stock. With Microsoft still looking like the old man of the tech industry, there's got to be more than karma in that.