Microsoft pips Apple - and other US bellwethers shine too
Finally some good news for the American economy...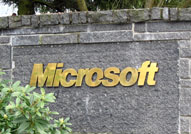 After Fed chairman Ben Bernanke's stark warning about the state of the US economy earlier this week, Wall Street certainly needed some a boost. It came today in the form of a slew of healthy financial results from US bellwethers including Caterpillar, 3M, and UPS, who all delivered double-digit growth in profit in the last three months. Meanwhile, technology giant Microsoft, posted record quarterly profits of $16bn, beating arch-rival Apple hands-down. Just goes to show there's life in the old dog yet…

Microsoft has added to the swelling sentiment of recovery in the technology sector by delivering record revenues. The software giant beat analysts' expectations – not to mention rival Apple – with a 22% increase in revenues to$16bn (£10.5bn) in the three months to the end of June. What's more, operating profits surged by 49% to $5.9bn. Impressive stuff.

Analysts say this is evidence that the worst is behind us, recession-wise, at that companies are beginning to invest in new technology – either that or they've realised their current software is on its last legs and needs replacing, pronto. There are other signs of recovery too, however, as a handful of other big American firms reported leaps in profit today.

Construction equipment manufacturer Caterpillar posted the most impressive headline figure, a massive 91% rise in second quarter profits. Not a bad turnaround when you consider they almost shut up shop in 2007.

Meanwhile UPS, the world's largest parcel and freight company, delivered a similar 90% increase in profit to $845m (£554m) from $445m in the same period last year. It largely had its international business to thank: sales were up 40% in Asia and domestic delivery outside of the US grew by 24%, driven particularly by its presence in Europe and Canada.

Last, but by no means least, 3M, which makes everything from Post-It notes to bullet-proof glass, reported a 43% profit increase to $1.12bn, up from $783m a year ago. The rise was, once again, largely down to growth in emerging markets, with sales in Asia Pacific up 42% and Latin American 21%. In divisional terms, its electronic and communications and display and graphics business fared the best, seeing sales increases of 32% and 30% respectively.

So, good news all round then – especially for the Dow Jones (of which 3M and Caterpillar are members) which was pushed sharply higher on the back of the results. The index closed 1.9% up, which more than offset Wednesday's 109 point fall on the back of America's economic woes – or rather Mr Bernanke's comments on them...
In today's bulletin:
Growth hits four year high - but may have peaked
Microsoft pips Apple - and other US bellwethers shine too
UK insurance fraud hits record £840bn
Students (and Scouts) get the entrepreneur bug
Editor's blog: We're balancing on a knife-edge