Microsoft's 'one brand of shampoo'
A happy day for freedom of choice: Internet Explorer will no longer be Windows' default web browser.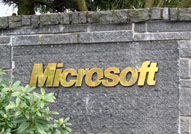 European Windows users will now be able to get online however they want - and it's all thanks to the EU. Competition regulators have agreed to drop any outstanding antitrust charges against Microsoft, provided the US software giant starts giving equal prominence to the likes of Firefox and Chrome as well as IE. The deal appears to put an end to the decade-long spat between the EU and Microsoft, as part of which the latter has already been fined €1.7bn for abusing its monopoly position to promote its own products via Windows (the operating system that's used by nine out of 10 PCs across the world). For some, this move might seem about as exciting as spending two hours listening to the X Factor Christmas song on continuous repeat. But for others, it's a victory for the little guy over The Man...
As a result of the EU ruling, Microsoft will now show Windows users a 'ballot screen' with a list of browsers they can set as their default - opening up the market to rivals like Mozilla Firefox, Google Chrome, Apple's Safari, and lots of smaller rivals. Power to the people!