Microsoft's Satya Nadella backpedals after saying women shouldn't ask for pay rises
The Microsoft boss said women should wait for 'karma' to bless them with higher pay.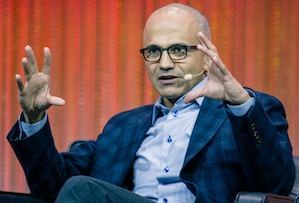 Satya Nadella has learnt the hard way that, in the internet age, what goes around comes around rather quickly. The Microsoft boss has had to backpedal faster than Sir Bradley Wiggins, after saying it was 'good karma' for women to wait for a pay rises instead of asking for one.

'It's not really about asking for the raise, but knowing and having faith that the system will actually give you the right raises as you go along,' Nadella said when asked for his advice on the matter - at a conference devoted to women in computing, of all places.

Trusting the system, rather than asking for a pay rise, was 'good karma' and even 'one of the additional superpowers' women may have in the workplace. 'It'll come back because somebody's going to know that's the kind of person that I want to trust,' he said.

Nadella was immediately challenged on stage by Microsoft director Maria Klawe, who said it was 'one of the very few things I disagree with you on' - to cheers from the audience.

The comments soon stirred up a storm on Twitter, leading the Microsoft chief executive to tweet a rather lame non-apology.
Was inarticulate re how women should ask for raise. Our industry must close gender pay gap so a raise is not needed because of a bias #GHC14

— Satya Nadella (@satyanadella) October 9, 2014