Middleton madness: Cashing in on the Duchess of Cambridge
MT's got the pick of the hideous Middleton memorabilia hoping to milk the royalist cash cow this Christmas.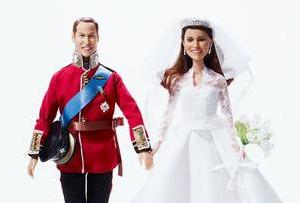 They may cost British taxpayers 62p per person in upkeep but the Royal family - the Queen, Prince Charles et al – are also a lucrative asset, generating around £500m every year for the UK economy, mainly through tourism. And the jewel in the Royal crown is definitely the happy couple, Prince William and Kate Middleton.

VisitBritain reckons that the Royal Wedding earlier this year triggered a tourism boom that will last several years, bringing in an extra four million visitors and around £2bn. Royal Wedding paraphernalia boosted retail sales by an estimated £620m over the summer. And these are the gifts that keep on giving with a raft of new products being launched to sate demand for newlywed memorabilia this Christmas.

While commemorative plates are all well and good, the Royal Wedding teddy bear twee but innocuous, check out the latest monstrosities to plague Kate Middleton:


US-based figurine company Hero Builders has created action figures of Kate and Pippa Middleton. These are literally 'action' figures: grinning caricatures of the sisters' faces stuck on Jean-Claude Van Damme style bodies. The £120 Kate doll wears a tiny, ill-fitting replica of her Sarah Burton for Alexander McQueen wedding dress – the figurine's biceps practically burst through the lace sleeves.

Hamleys is selling a slightly less frightful version of the doll for a bargainous £50 (pictured, top). (you can also throw Prince William into the set for £100 all in). And Toys R Us is still doing a decent trade on the Kate Middleton 'Engagement' figurine.
'Fashioned to resemble Catherine "Kate" Middleton, right down to the Eaton clutch bag, fascinator and shoes, the Princess Catherine Engagement Doll oozes British style,' reads the blurb.
With retail figures down across the UK, it not surprising that stores are grasping at straws to try and make a few extra pounds this Christmas. As least LoveHoney, the sex toy retailer, has no skin in the game this time around. During Royal Wedding season, its 'commemorative' Royal Wedding Ring (of the vibrating variety) retailed for £6.99. The blue ring, modelled on Kate's engagement ring, has now sold out.