Migration: a moving issue
The government has published its first official study into the effects of the current record-breaking wave of migration. The results? Divisive to say the least. This should be no surprise – when it comes to political hot potatoes, immigration is one spud that's had a couple of hours in the oven at gas mark 8, only to be taken out, coated in vindaloo and flambéed.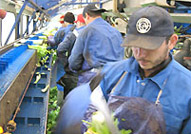 On the plus side, the report found that new arrivals to our shores contributed around £6bn to the nation's public finances, about one sixth of total economic growth last year. It also stated that migrant workers are more skilled, more reliable and more hardworking than British workers.

Sainsbury's reported something similar this week, telling a House of Lords committee that immigrants had a 'superior' work ethic, one that was good for business and rubbing off onto its British workers. The National Farmers' Union, meanwhile, stated that migrants were willing to take on jobs British workers weren't. Anyone who ever tried potato-picking in their youth may well see that as a welcome sign of progress, but it does highlight a subtext that should perhaps be of greater concern than immigration – the same phenomenon that led the government to appoint a 'skills tsar'. Such a post would have been unthinkable a generation ago.

The report added that migrants had 'very little discernible negative impact on labour market outcomes for native workers'. In other words, they're not nicking our jobs. But a separate regional study published by the government today found that migration has caused a range of social pressures. Seven out of eight regions reported problems in housing, with the East Midlands and Scotland both citing an emerging homeless issue among migrant Poles. And five out of eight regions reported difficulties in crime and education.

Signs perhaps that migration is coming too quickly for many areas not cut out to accommodate it. The economic benefit is hard to argue with. But is the Treasury putting it back into the areas which are struggling to cope with the effects? The report doesn't mention that.

For a more in-depth look at the immigration issue, read author Philippe Legrain's MT feature on why Britain needs migrants.