Mike Ashley launches Rangers coup
The Sports Direct owner demands Rangers' chief executive Graham Wallace leaves the board, but he's in for some resistance.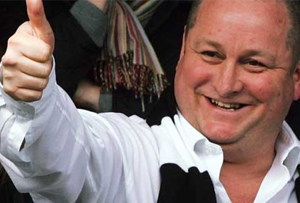 Clearly one struggling football club isn't enough for Mike Ashley. The Sports Direct and Newcastle United owner has called for Rangers boss Graham Wallace and finance chief Philip Nash to be booted off the plc's board. Ashley sent a note yesterday calling for an emergency general meeting to vote on removing the pair, only one week after he raised his stake in the club to 8.9%. He's not one to hang around, is he?
The note, formally sent from Ashley's MASH Holdings, drew an icy response from the Rangers board. 'The company is currently verifying that the Notice is properly constituted,' Rangers said, hoping perhaps that Ashley made a spelling mistake. If the notice is proper, the board hopes to have it withdrawn, owing to the costs of holding such a meeting. Fat chance there…
That only leaves the possibility of the meeting and vote taking place, and that's where it'll get interesting. While the board has said it is 'unified in its support of the executive team', it also surely knows that Ashley holds a lot more cards than his £4m stake would imply.