Mike Ashley is tightening his grip around Rangers
The Sports Direct founder has got his ally Derek Llambias where he wants him. Now to take on the Scottish FA...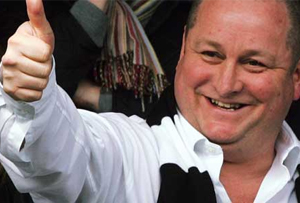 Christmas may be just around the corner, but Mike Ashley clearly isn't taking a holiday just yet as he executes his convoluted takeover of Rangers football club. The Sports Direct founder and Newcastle United owner has manoeuvered ally Derek Llambias into the chief executive's chair, less than two months after 'rescuing' the struggling club with a £2m loan.
Rangers announced the appointment of Llambias to the stock market this morning. The former managing director of Newcastle United only joined the board on November 3rd, as part of the strings attached to Ashley's interest-free loan, which was increased by £1m on November 12th.
Ashley's lifeline coincided with the ousting of his opponents at Rangers: chief executive Graham Wallace and finance boss Philip Nash. Alongside his alliance with other major shareholders Sandy Easdale and hedge fund Laxey Partners, the loan effectively handed Ashley control of the club, despite his agreement with the Scottish Football Association not to increase his 8.29% stake to more than 10% because of his ownership of Newcastle.