Mike Ashley wades in to block Blacks restructuring plan
Ashley's Sports Direct buys back its shares in Blacks Leisure - so he can vote against a rescue plan.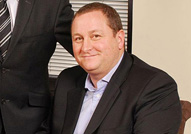 You'd think Mike Ashley would have enough to worry about at the moment, with Sports Direct still the subject of various competition probes. But that hasn't stopped him wading back into the battle over the future of Blacks Leisure. Since last year, Sports Direct has been embroiled in a dispute with the administrators of failed Icelandic bank Kaupthing over the ownership of a 29% stake in Blacks. However, it's now apparently agreed to buy back the rights to the shares for an undisclosed sum - so it can vote down a proposed rescue and expansion plan for the struggling retailer. Wonder why it might want to do that?

It's hard enough at the best of times to keep up with goings-on at Sports Direct, but this little episode is particularly tricky. After Kaupthing went kaput in 2008, it emerged that the Icelandic bank actually owned the 29% stake in Blacks that had previously been thought to belong to Sports Direct. Although Ashley has never actually given up his claim to the stake – and has been wrangling with administrator Ernst & Young ever since – SD was forced to concede last year that it no longer controlled the shares, slashing its 2008/9 profits by £53m. But now, SD appears to have bought them back from EY – although it's keeping mum on how/ why they've suddenly been able to cut a deal, or even how much money has changed hands. All very confusing.

Anyway, what is clear is that the first thing Ashley/ SD plans to do with these shares is to vote down a rescue plan due to be tabled at a shareholder meeting on Thursday. Blacks, which only narrowly avoided administration last year (after cutting a deal with creditors), wants to raise £22m so it can open 35 new stores over the next two years, refurbish 130 of its existing outlets and refinance some of its debt. However, this plan seemingly doesn't meet with the approval of Ashley, who intends to try and scupper the whole shooting match by voting against (assuming the SD board approves).

The question is: why? None of these measures sound particularly controversial; in fact, on paper, it looks like a sensible turnaround plan for the struggling Blacks. All we know for sure is that despite Sports Direct's well-publicised headaches (it still has the Office of Fair Trading and the Serious Fraud Office on its back), Ashley clearly still wants to have an influential say in the fate of his rival retailers...

In today's bulletin:
Brown bullying row a bad example to senior leaders
BA expecting flak to strike - as Lufthansa suffers
Mike Ashley wades in to block Blacks restructuring plan
Primark shifting gear - and Fairtrade also picking up
MT Expert's Ten Top Tips: Supercharge your energy levels