Miliband woos business with pledge to support EU
The CBI opposes a vote on Britain's membership but some business groups disagree.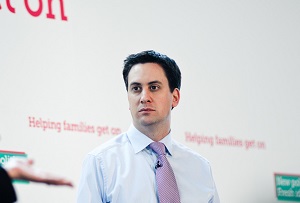 Ed Miliband is hoping to boost his business credentials by promising to oppose a British exit from the European Union in a speech to the CBI's annual conference today, but it's unclear whether the business community will have his back.
'Every nod and wink to those who want to leave sends a message to potential investors in our country that we are not open for business,' he is expected to say. 'If I am Prime Minister I will never risk your businesses, British jobs, British prosperity by playing political games with our membership of the European Union.'
Miliband could find a friendly audience - although it wants to see reforms, the CBI is a massive cheerleader for the EU and has warned that a referendum would be a distraction from focusing on Britain's economic growth.

'The UK's membership of a reformed EU is overwhelmingly in our national interest. Eight out of ten CBI members, large and small, would vote to stay in the EU in a referendum,' its president Mike Rake said this morning, although he added that the issue of an in/out vote was a question for the Government to deal with.

Prime minister David Cameron reiterated his plans to renegotiate Britain's relationship with the EU before holding a referendum in 2017 at the conference, hitting out at the idea that the UK should stay in 'come what may'.