Mining for gold
The mining sector may not be the most glamorous in the world, by most people's standards, but investment bankers presumably have a very different view. After a string of big deals in the sector, market leader BHP Billiton said on Thursday that it wants to buy rival Rio Tinto. This would be the second biggest takeover ever – which means lots of fat fees for bankers.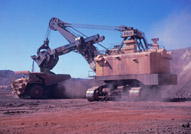 BHP said today that it had approached Rio Tinto over the weekend about a possible deal that would see it exchange three of its shares for each one of the latter's. That would value the total transaction at well over $100bn – which would be huge at the best of times, let alone in the middle of a credit crunch.
However, Rio Tinto has no intention of submitting quietly. It swiftly rebuffed BHP's advances and sent it off with a flea in its ear, claiming that the offer 'significantly undervalued' its business. But like a persistent nightclub lothario, BHP doesn't seem to be disheartened. It said today that it was still seeking talks with the object of its affection about a possible compromise deal.
Combining these two Anglo-Australian mining giants would create an enormous company – its market value could be in the region of $350bn, which would dwarf anyone else in the sector. Normally, the only way to create a company that size is to list on the notoriously over-valued Chinese stock market.