Minister Miller refuses to be drawn on boardroom quotas
Women's minister Maria Miller sets out recommendations to improve women's lot in business. No word on boardroom quotas, though.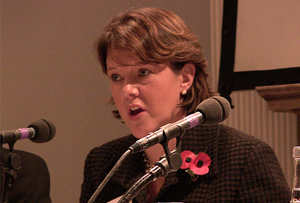 - Ruby McGregor Smith: 'I don't want to be defined by being a CEO'
It's equal pay day – the day that women would stop earning money, were they given the same monthly payments as their male counterparts – so what better opportunity for the government to make some solid commitments to improving gender imbalance on pay and boardroom appointments?

Alas, at a Downing Street breakfast hosted by women's minister Maria Miller (she's also minister for the department of culture, media and sport – don't say the government doesn't multi-task) this morning, she outlined policies that could be described at best as wishy washy, at worst as noncommittal.

At the event, she outlined the government response to a report, published in June by Mitie CEO Ruby McGregor Smith and the Women's Business Council, which recommended firms 'embrace' flexible working, and that a 'culture change' is needed if disparities in boardroom representation and gender pay balance are to be addressed.

Five months on, Miller's insights are as followed: firstly, that bosses should be more conscious of how women progress up the career ladder in their organisation – and consequently should create a plan to encourage them to do so; secondly, that CEOs should commit to 'greater personal leadership and engagement to drive forward change' (set a good example, for those who don't speak governmentese), and thirdly that they should pass that on to their supply chain.

To be fair to Miller, she didn't have an awful lot to work with – but given she pointed out that if labour force participation by men and women was at an equal level, GDP would grow by 10% by 2030, the recommendations felt hazy. Particularly when compared with a report by Lord Davies in 2011 which hinted that if by 2015 women don't make up 25% of board appointments, the government should consider introducing quotas.

Miller pointed out that 66 more women need to be appointed to FTSE 100 boards before it reaches Davies' target. But a report by the Cranfield School of Management published in April showed the number of women being appointed to boards had slowed from 44% of board level appointments to 26% in the second half of 2012, suggesting we still have a long way to go.

MT asked Miller whether the government is considering taking up Davies' recommendation. She said change needs to come from within.

'In my experience the best way to drive a business forward is by having strong leadership that sets the agenda for the organisation.

'What I want to do I my job is to make sure that companies are focused on the issue of women in the workplace and that they themselves drive forward a plan for change.'
Lots of 'driving forward' there (some might say too much), not a lot in the way of solid recommendations. But she's right in the sense that cultural change within business will be a better incentive than the government forcing its hand. The trouble now is finding how to drive that change. We're not sure the plans unveiled today will help.