'Misleading' Heathrow adverts banned for suggesting locals support expansion
The airport's billboards were censured by the Advertising Standards Authority for saying 'those around us are behind us'.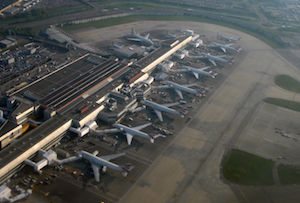 This year, a battle for the hearts and minds of southeast England saw the region plastered with posters arguing that the right choice for airport expansion is 'Gatwick, obviously,' or that Heathrow will 'take Britain further.' But it seems that somebody has taken exception to the latter's tactics. Today it got a ticking off from the Advertising Standards Authority for three adverts that implied locals supported plans for a third runway.
'Those around us are behind us,' one of the ads said. 'More local people support than oppose Heathrow expansion. In a recent poll, 50% of those living around the airport were in favour of expansion and 33% opposed.' Another claimed, 'Those living around us are behind us.'
"Those around us, are behind us." Locals support Heathrow #takingbritainfurther via: http://t.co/Zbow8FbnPS pic.twitter.com/TkhYohuN8O