Mission Impossible for Iceland?
Now Iceland's threatening to sue us - but striking a rescue deal with the IMF is a much higher priority...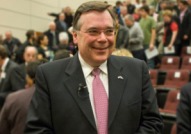 The diplomatic row between the UK and Iceland over the collapse of the Icelandic banks seemed to have cooled, after productive weekend talks. However, last night Iceland's PM Geir Haarde cranked it up again by threatening to sue the British government (in response to Gordon Brown's threat of legal action over the vanished Icesave funds). He plans to endorse Kaupthing's claim that the British government's decision to put its UK assets into administration precipitated the bank's collapse, even accusing Britain of 'bullying a small neighbour'. But unless he can strike some kind of rescue deal with the IMF, he won't be able to afford any lawsuits…
A Treasury delegation spent the weekend in Reykjavik trying to hammer out some kind of compromise with their Icelandic counterparts, as they look to try and salvage some of the billions of pounds of British savings lost in the Icelandic banks' collapse. Retail depositors should be ok – agreement has been reached in principle about a quick pay-out, with the UK's own depositor protection scheme picking up much of the tab. But it's since emerged that various public bodies had huge amounts of their money stashed away in Icelandic banks, which under Government guidelines were (remarkably) considered to be among the safest in the world. These local authorities, hospitals, charities and so on have apparently lost over £1bn, and they're not even covered by the guarantee scheme.
However, terrible though this is – and it raises some serious questions about how these bodies selected and monitored their investments, especially given that some of this money was deposited in the last few months – it's nothing compared to the plight of Iceland itself. The tiny country has debts up to its eyeballs and is effectively going bust: so its immediate future (including UK savers' funds) is hugely dependent on its ability to strike a deal with the IMF for some emergency loans. The only other option is that its deep-pocketed chum Russia decides to swoop to the rescue, but that could create problems all of its own.