Are mobile phones the future of marketing?
Mobile phones will in future offer greater potential to marketers than TV and radio, the internet or printed media, according to findings.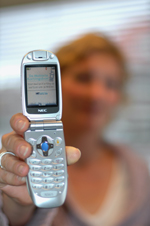 In a report published this week, business and IT analysts Quocirca claim that as markets fragment and industries converge, companies will need to find new ways of forming and maintaining bonds with their customers. The report says that because more sources of information have led to fickle audiences with short attention spans, mobile phones offer the broadest possible reach and the opportunity for instant response, and capturing audience attention.
According to the report, traditional print media, from newspapers to direct mailshots, is becoming less effective as a medium for marketers because it has fixed content and does not enable interaction with the reader. Cable and digital TV offer a degree of interactivity but rarely compel viewing audiences to respond immediately, "except perhaps by switching to another medium and making a phone call", the report says.
"The internet adds interaction and, through the use of broadband, an increased capacity for rich media and content, but still struggles to be globally inclusive due to the costs and complexity of owning a PC and paying for broadband connection," it adds.
Mobile phones, by contrast, provide the opportunity "for instant response, from the widest possible audience". This is because they offer not only broad reach, but also "the potential for far more frequency of contact due to the personal and portable nature of the mobile phone". The real challenge, therefore, is to "make the connection between supplier and consumer straightforward and for the experience to be still sufficiently entertaining, engaging and affordable on a small device".
Claims for the marketing potential of mobile phones will be treated with scepticism by many. There have been many false dawns heralding the start of the "mobile internet", leading to widespread cynicism toward the whole idea. But the report argues that this is largely due to constraints in the available technology and a lack of understanding of the potential of "mobile-specific marketing".
Rob Bamforth, principal analyst at Quocirca, says that the potential to use mobile phones for marketing purposes has been held back because WAP-based services are too limited to engage users, and phones that offer internet access are unable to squeeze the information contained in an average web page onto the small screen. In the future, he claims, companies will develop alternative websites designed specifically for mobile phones.
He says that while laws preventing firms from sending out bulk SMS messages will remain in place, improved mobile phone technology will enable them to maintain relationships with customers. He says: "Businesses have the opportunity to include mobile in their marketing mix. Once you've established a relationship with a customer, you can use mobile to continue to develop that relationship."
Over time, companies will be able to build profiles of their customers and target them for highly specific marketing campaigns, he says. "People don't like to be inundated with offers for products that have no relevance to them," he says. "But if it's for something they've already expressed an interest in, they might welcome it and become more engaged with the company."
Source: Reach, Relevance and Relationship
Quorica
Review by: Nick Loney