Mobility scooters: They like to move it
Older people are enjoying a scooter craze of their own as our ageing, heavier population takes to the pavement in ever-more stylish and expensive models.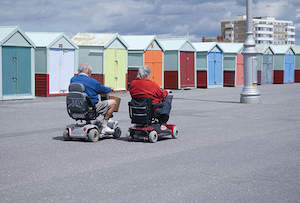 The mobility scooter industry has a little secret. It's not a dirty little secret, but it is, perhaps, a surprising little secret. No one tells you how much fun they are - like dodgem cars for the over 60s. Indeed, after spending half an hour tooling around a car park on various models, I was tempted to splash out myself, despite being able-bodied, in tolerably good shape and with a year or two to go before I start collecting my pension.
Mobility scooters are a product that has crept up on us - or perhaps wheeled up on us, near silently, at a legally restricted maximum speed of eight mph. They're ubiquitous, too: according to a report by the Research Institute for Consumer Affairs (Rica), there are between 300,000 and 350,000 of them in the UK and around 80,000 are sold each year.
The UK is the biggest scooter market in Europe. The Netherlands, where the scooter is seen as an alternative to cycling for the elderly, is second. (The fabled Dutch network of bike paths helps too, making scooting through those polders a breeze.) The market is growing at 5% to 10% a year and an ageing population means this growth is likely to continue.