A moment of truffle madness
Many people in the business world will, at some stage in their careers, have felt threatened by the emergence of a thrusting young rival. But not many go to the lengths of squishing their truffles.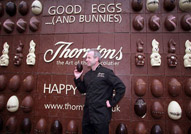 Barry Colenso was considered one of the brightest stars of the chocolate world. The master chocolatier of high street chain Thorntons, he had previously made cakes for the Queen and created the world's first ever chocolate billboard. He had it all. Now he has been forced to resign in ignominy after being caught red-handed (or should that be brown-handed?) sabotaging the chocolates of one of his major competitors.
Colenso was caught on CCTV at a Hotel Chocolat store in Nottingham, systematically flattening their expensive truffles with his thumb. It was, as Hotel Chocolat so eloquently put it, 'an extraordinary act of truffle-squishing'.
But how did a simple act of industrial espionage degenerate into wanton chocolate-based violence? Rivals blamed the extreme pressure faced by top chocolatiers, but perhaps the real reason is less deserving of our sympathy. Hotel Chocolat is widely seen as the biggest threat to Thornton's chocolate dominion – it has already opened 23 stores since 2004, with four more to come, and is well-placed to overtake Thorntons at the high end of the market. Was Colenso's truffle-rage just a fit of jealous pique?