Monday morning blues a sickener for employers
If you briefly considered taking a 'duvet day' this morning, don't worry. You weren't the only one.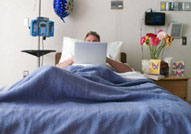 A whopping 35% of all sick days are taken on a Monday, according to new research by Mercer. Its study of 11,000 staff (all from the private sector – interesting that they didn't include civil servants too) also found that January was by far the most popular month for absence, accounting for 13 of the top 20 sick days last year. And while it won't surprise anyone that struggling into work on a cold Monday morning just after the Christmas holiday is considered a dismal prospect, it's still an expensive problem for businesses, on all sorts of levels. So is there anything they can actually do about it?

To most employers we suspect these results will ring true, not least because the absence rate is so much higher on Monday than it is on Friday (3%). Equally, getting people back to work in the New Year is never easy: last year, almost 5% of the entire workforce was off sick on the 3rd and 4th of January (which 'coincidentally' would have taken them right into the weekend). Although perhaps we shouldn't just assume this is a case of staff being work-shy; it's also true that holidays (and weekends, for that matter) give people more opportunity to pick up bugs and sniffles from their germ-ridden friends and offspring.

Speaking of which, one interesting point was that colds and infections weren't actually the most common cause of employee absence. This, believe it or not, was musculo-skeletal problems, i.e. breaks, aches and strains, which accounted for a quarter of all sick days. That's presumably because although they're less common than the likes of flu, they tend to result in much longer periods of absence. Either way, all this absence is (appropriately) a pain in the neck for employers. Not only do they have to stump up overtime and temporary cover for sick staff, but they also suffer from more hidden costs, like lower productivity, more mistakes and so on.

The good news, according to Mercer, is that businesses now have better systems for monitoring absence (supplied by the likes of Mercer, natch). But the more significant challenge is to tackle the root causes of the problem: using occupational health and support teams to try and prevent these muscular problems and manage stress levels, for instance. And technology can also play a part: staff who don't fancy that snowy January commute might be more inclined to clock in if they can work from home.

One thing's for sure: high absence rates are often a function of low engagement or morale. So companies ignore them at their peril.

In today's bulletin:
Cadbury poised to turn up its nose at Kraft
Sugar schmugar - Lloyds to back an extra 30,000 start-ups
Monday morning blues a sickener for employers
Our new blog: Psychology at Work
MT Expert's Ten Top Tips: Make your meetings more productive