Money talks, but do people still listen?
For some, it makes the world go round, for others, it's the root of all evil. But how does money function when it comes to the workplace, ask Tomas Chamorro-Premuzic and Patrick Fagan.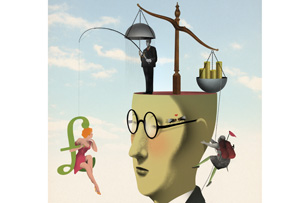 Few management topics have attracted as much discussion as the relationship between money and motivation. On the one hand, most people, not just investment bankers, would not work for free. On the other hand, financial rewards often don't increase job satisfaction or performance. Indeed, the relationship between pay and performance is weaker than most people think, but perhaps stronger than spiritual individuals would wish.
Unsurprisingly, a great deal of research exists in this area, and much of this work has highlighted the irrational relationship people have with money. In this article, we look at some key findings in the hope of debunking the common myths surrounding the psychology of money.
A brief history of money
In the beginning there was gold. Then notes emerged from bank receipts for gold, as it was much more convenient to carry and swap pieces of paper than lumps of precious metal. However, since the abandonment in the UK of the gold standard in 1931, the value of money is mostly intangible.