Moolah's founder accidentally donated 20m Dogecoins to Doge4Nascar
LAUNCHPAD: Very Dogecoin. Such Nascar. Wow.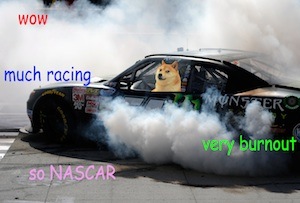 The propensity of people paying for things online to become slightly detached from reality is not new (an MT writer's mother ended up with a surfeit of ponchos after an eBay spree around ten years ago). However, you'd think someone who makes their money out of online payments might be a bit less click-happy.

Step forward Alex Green, founder of Moolah.io, a platform for paying with virtual currencies. The entrepreneur, who was 'groggy' after getting engaged the previous night, blamed his 'silly keyboard' for the accidental donation of 20m Dogecoin (currently worth around $13,200) to 'Doge4Nascar'. Green said on Reddit he had meant to give 2m (assuring Redditers that it wasn't a publicity stunt), but what's another zero between friends?

'Doge4Nascar' is trying to raise $55,000 to sponsor Nascar driver Josh Wise and, obviously, adorn his car with the Doge itself.


For anyone who has been living under a rock sans 3G for the last few months, or missed the meme's predictably awkward appearance on Radio 4's Today programme, here's a decent Doge primer.

Doge fans created crypto currency Dogecoin as a satirical alternative to scandal-beset big brother Bitcoin and have previously raised more than $25,000 to send the Jamaican bobsleigh team to the Sochi Olympics, as well as giving to various charitable causes like 'Doge4Water' (building wells in Kenya).