The moral compass: values-based leadership at Infosys
This case study focuses on the efficiency of the values-based leadership at Infosys, an Indian software services provider which specializes in integration software development.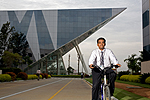 Consistently ranked as one of India's most respected firms across all industries, Infosys was a pioneer in strategic offshore outsourcing of software services. Doctoral student Anupam Agrawal, under the supervision of Manfred F. R. Kets de Vries, the Raoul de Vitry d'Avaucourt chaired professor of leadership development, and Elizabeth Florent Treacy, research programme manager, show how success has been achieved in part thanks to the founders' business ethics and values, dubbed CLIFE - Customer delight, Leadership by example, Integrity and transparency, Fairness and pursuit of Excellence.
Founded in 1981 in Bangalore by Narayana Murthy and six colleagues, Infosys is positioned to integrate the needs of vendors and service providers, using existing solutions or relying on new product development. The company does the necessary integration, software development, feature enhancements testing, release and third level support. It provides solutions to the financial sector - the biggest chunk of its business- as well as to 460 other clients across a broad spectrum of other industries.
In terms of management, IT project work is split into two components: onsite and offshore, according to where it can be best done, at the lowest cost, and with the lowest level of acceptable risk, thereby de-coupling capability development and delivery.
Although Infosys was not spared by the dotcom crash in 2001, thanks in part to the loyalty built up among employees the business bounced back, and by 2006 its market capitalization was US$18 billion.
For Murthy, leading by example is what counts. This translates into three core values: respect for the individual, data-based decision making, and embracing constant change by forcing people to share their innovations. Infosys has established a systematic pattern of succession planning whereby board members remain in the vanguard but are underpinned by a three-tier leadership structure for high-potential managers. Younger employees are viewed as "the eyes and the ears of the company", bringing to the forefront contemporary issues that might otherwise be overlooked.
The challenge, as the company continues to grow, lies not only in meeting customer demand for excellence but also in sustaining its leadership performance. It will require developing a mid-level leadership capable of taking the organization through a complex transformation to be able to face the uncertainty and complexity of the technological domain. In so doing, can values-based leadership remain the key to Infosys' success?

INSEAD 2006