Morgan Stanley looks east after $9bn loss
Big investment bank writes off several billion dollars and sells a big stake to Eastern investors. Haven't we done this story already?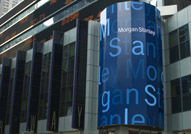 Following on from Swiss bank UBS's big losses last week, Wall Street giant Morgan Stanley said on Wednesday that it has been forced to write down $9.4bn from its sub-prime mortgage investments. And it's turned to China to re-fill its piggy bank: the China Investment Corporation, one of the state funds set up to invest the country's huge cash pile, is ploughing in $5bn in exchange for a stake of about 10%.
It's the second huge investment by CIC this year – it also spent $3bn buying a stake in private equity group Blackstone – and the latest example of the big banks looking east to bolster their balance sheet in the wake of the credit crunch. Citigroup sold a $7.5bn stake to the Abu Dhabi state fund, Bear Stearns agreed a deal with Chinese brokerage Citic that led to a £1bn cash injection, and last week Singaporean state fund GIC and an unnamed Middle Eastern investor poured £5.6bn into UBS. Barclays also brought China Development Bank and Temasek on board as strategic investors earlier this year.
Morgan Stanley's fourth quarter numbers were shocking: its sub-prime losses ballooned by a further $5.7bn to $9.4bn; revenues were down from $7.85bn last year to minus $450m this year; and its $1.54bn profit in 2006 became a whopping $3.59bn loss this time round.