Morgan and USC fall victim to high street woes
Morgan and USC have become the latest retailers to slide into administration as the slowdown bites...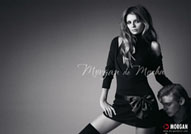 It's not just the UK that's having trouble on the high street. Morgan, the French clothing chain, admitted today that it had called in the administrators after failing to secure a buyer for the business. With sales likely to be down 9% for the year across its 575 stores worldwide, its bankers have clearly decided that it's time to pull the plug. Meanwhile in Scotland, it's a similar story for Sir Tom Hunter's fashion retailer USC, which is shutting down 15 of its 58 shops as part of a 'pre-pack' administration deal. After a month in which Woolworths, Zavvi, Whittard and The Officer's Club have all been forced to throw in the towel, nobody can be in any doubt about how tough things are for retailers...
In truth, Morgan's demise may not come as a great surprise to UK observers. The chain, which rose to prominence with a little modelling help from Mischa Barton and Carla Bruni, was struggling with falling sales even before the onset of the financial crisis – in Britain, its latest attempt to resuscitate the business ended in failure earlier this year, forcing it to pull out of the country altogether. Its owners (who include the French arm of private equity group Apax) have been looking to cut their losses for over a year, but with the company labouring under a reported €30m debt burden (and locked in a dispute with a Tunisian suppliers), buyers have been understandably reluctant to take it off their hands. Now, it seems, its bankers have run out of patience.
North of the border, USC also blamed the economic climate for its sliding sales. The fashion chain, which has been owned by Sir Tom Hunter's West Coast Capital vehicle since 2004, said yesterday that it has agreed a pre-pack deal with administrator PKF (thus putting the seal on Sir Tom's annus horribilis) that will see it close 15 stores, with the loss of about 300 jobs. 'Ultimately we had to ask ourselves, what's better - the loss of 15 stores or all 58?' said Sir Tom's partner Jim McMahon. 'The answer was unequivocal.'