Morrisons' latest results are down, down, down, down
The struggling supermarket is yet to bounce back from its prolonged slump.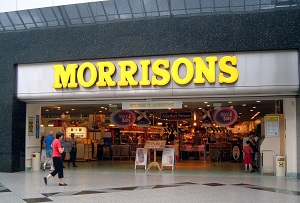 With food prices on the slide and stiff competition from the likes of Aldi, Lidl and Waitrose, the 'Big Four' supermarkets (Asda, Morrisons, Sainsbury's and Tesco) could be forgiven for struggling to maintain their sales growth of yesteryear. But things are looking particularly bleak for Morrisons, the northern grocer whose last boss was forced to fall on his sword earlier this year.
New chief exec David Potts hasn't sat on his hands – weeks after taking the helm he cleared out the supermarket's boardroom and announced plans to slash senior management jobs. He's since closed several loss-making stores and sold off Morrisons' convenience division to focus on improving the fortunes of its core business.
If they were the right actions to take, you wouldn't know it looking at today's pretty bleak third quarter update. Total sales (excluding fuel) were down 2% in the thirteen weeks to November 1 and down 2.6% on a like-for-like (LFL) basis. That's partly because of falling prices, but volumes were down too –LFL items per basket were down 1.9% and LFL total transactions were down 2% year-on-year.