Morrisons left on the shelf as sales stumble...again
The supermarket has reported a 2.4% fall in sales as it tries to catch up with online and convenience offerings.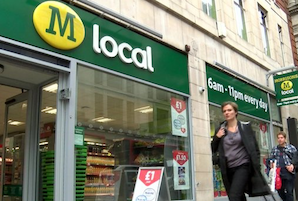 Morrisons is pushing hard. It's currently opening an average of three M Local shops a week but even this blitzkrieg of convenience stores can't stop it from falling even further behind its peers as it reveals its third quarter results. Like for like sales in the three months to November were down 2.4%, 3% if you include the sale of fuel.

The decline in this quarter follows a 1.6% drop in the first half of 2013 and the continuing lack of convenience stores and online delivery service have been blamed for the slide.

'Consumer confidence remains subdued and we continue to see heavy promotional activity across the industry,' a spokesperson said.

'As previously indicated, our low exposure to the sector's key growth areas of convenience and online continues to impact the sales performance of the group.'

It's not like Morrisons' chief exec Dalton Phillips isn't giving it his all. As we've already mentioned, the open rate for M Local (designed to take on the might of Tesco Metro and Sainsbury's Local stores which are flourishing) is pretty high. During the quarter 36 M Local stores were launched, bringing the total to 69 across the country. Earlier this year the company bought more than 50 former Blockbuster and Jessop stores to convert into its new handy, smaller offering. It's due to have 100 open by the end of the year. (Let's hope the new sites have better luck than they did under their previous owners).

The supermarket has also addressed its need for an online delivery service – the famous multi-million tie-up with Ocado is due to kick off in January.

'I said at the outset that our online offering would be unmistakably Morrisons and I'm very confident that the service we unveil in January will live up to that promise,' said Phillips.

'Many of our customers will be able to experience our distinctive online food service early in the new year and we expect to be able to serve 50 per cent of UK homes by the end of the year.'

The delivery service will start in the lovely Warwickshire before being rolled out to other parts of the country.

Shares have dipped ever so slightly by 0.21% this morning. The supermarket remains unflapped by this latest set of results, saying figures were as expected and the outlook for the full financial year remains unchanged. But we suspect January and the advent of the Ocado deal couldn't come quick enough.