Morrisons sales take a further dive on 'fragile' market
Sales at the supermarket chain have slipped further over the last three months thanks, say bosses, to a discounting war, and damaged consumer confidence.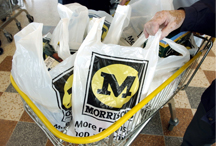 Wm Morrisons today announced that in the three months to October 28, like-for-like sales dropped 2.1% compared with the same period the previous year. This is a slightly larger drop than the 2.1% that analysts were predicting, and means the situation has worsened since the 0.9% fall in the first half of the year. The chain said that trading conditions had been challenging, saying 'consumer confidence still fragile and high levels of promotional activity a persistent feature in the market.' Take that to mean 'Sainsbury's is really getting our goat'.
Morrisons, despite being the UK's fourth-largest grocer, has found itself in the middle of the storm, with the big three, and the smaller players such as Aldi and Lidl, all discounting feverishly in a bid to maintain sales growth. At the same time as releasing these results, the chain revealed that its commercial director, Richard Hodgson, is to leave the post, and corporate services director Martyn Jones has been appointed until a successor is found. Falling sales and a bit of management reshuffling – not a pretty picture for investors.
Unfortunately for Morrisons, which is Bradford-based and still relies on the Midlands and north of England for most of its sales, Sainsbury's is doing really rather well despite the 'tough' conditions. It's sales rose 6.4% in the same period, significantly lifting market share. Still, there are some innovations in the pipeline for Wm Morrison: last month the chain announced that it will be opening convenience stores throughout the UK – 20 this year and 50 next year – after successful 'M Local' trials in Leeds, Birmingham and Manchester.