Morrisons sales rise while Halfords rolls steadily downhill
The 'eat fresh, pay less' supermarket is trouncing rivals with storming results in Q3 while Halfords reports a slowdown of sales. 'It is impossible to predict when trading conditions will ease,' says bike shop boss David Wild.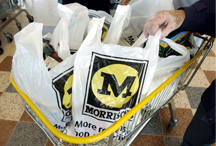 Morrisons may be Britain's fourth largest supermarket but it's now the fastest-growing grocer in the land, according to latest figures. Total sales (excluding fuel – tough to make money on petrol products at $96 a barrel) are up by 4.6%.

The supermarket opened 10 new stores in the last three months and, despite the 'challenging' economic environment, Morrisons reckons its 'focus on providing top-quality, fresh food and keen pricing, backed by an exciting and innovative range of promotions' will see its growth trajectory creep steadily upwards.

Unlike rivals Tesco, Asda and Sainsbury's, Morrisons has stayed out of non-food wranglings; fresh food and cheap ready-meals are its bread and butter. Sainsbury's reported a meagre 1% rise in underlying sales for the 16 weeks to October 1 and Tesco's revenues dropped of 0.7% in the second quarter to August 27.

On the subject of non-food sales, it's a shame you can't eat tyres. Bicycle retailer, garage and auto service centre Halfords has just reported a 20% fall in first-half profit with pretax profits of £54.7m in the six months to September 30. Cash-strapped Brits are deferring purchases, patching up old bikes or simply using public transport in order to avoid coughing up for fuel (see first par), a new car stereo or that shiny new Storck Scenero they've been pining after.
'The rate of MoT failure has now gone up to 41%,' adds Halfords CEO Wild, bleakly. 'Five years ago it was 28%. Around 40% of the tyres that we see are illegal because customers are waiting until the last minute before they change them.'
In an industry that depends on the latest 'innovation in motoring' to prompt bumper sales, Halfords is trying to operate in a desert of outmoded technology. The days when the retailer couldn't sell enough sat navs are long gone. Everyone's got one, and no one's bothered about getting the latest 'Yoda' plugin. Until the next big thing comes along, it will be lean pickings.