Morrisons trounces Tesco with 8% sales hike
Another triumphant quarter for Morrisons, which managed to chalk up another big sales increase...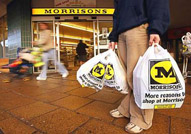 If this is meant to be a tough time for retailers, nobody seems to have told Morrisons. The supermarket chain recorded an 8.1% jump in like-for-like sales in the third quarter of this year – a remarkable showing at a time when even the all-conquering Tesco only managed a 2% rise. A few years back, in the aftermath of its Safeway takeover, Morrisons looked like a basket case – now it's leaving some of its more illustrious rivals in the shade…
Today's figures were another triumph for CEO Marc Bolland, who seems to have done a remarkable job of resurrecting Morrisons' fortunes since taking over the top job. As well as beating Tesco on the sales front (albeit partly because Tesco has been discounting so heavily), Bolland also casually mentioned today that an extra 700,000 shoppers are coming into his stores every week – more than twice as many as the 300,000 newbies Tesco was boasting about the other day. 'In this challenging economic environment more customers than ever before are choosing Morrisons,' said Bolland today, ascribing it to 'our industry-leading deals and unique fresh food offer'.
Cheap petrol has also helped its cause. By aggressively cutting its fuel (as well as food) prices, Morrisons has clearly been able to tempt more customers into its stores. Indeed, like-for-like sales were actually up 13.3% if you include fuel too, equivalent to a 14.9% overall rise. That's a pretty impressive figure in any retail climate, let alone this one.