Mortgage worries mount as lending slumps again
More bad news on mortgages, as Sir James Crosby warns the market could go into reverse next year...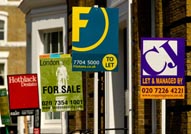 The bad news keeps on coming about the mortgage lending market. This morning the British Bankers' Association reported that new mortgage approvals fell to 21,584 in October, 52% down on last year. And yesterday, in one of the less cheery segments of a fairly cheerless Pre-Budget Report, it emerged that Sir James Crosby thinks net new mortgage lending will fall to less than zero next year unless the government does something drastic – in other words, banks will take more money out of the housing market than they put in. Not great news for anyone involved in the industry, let alone the economy in general…
In total, net mortgage lending by the banks increased by £2.9bn in October, a full £1bn below the average for the last six months (which has hardly been a golden period for the market) as borrowers steered clear of new loans. 'Mortgage approvals remained low, consumer credit was subdued and people used their deposits to fund spending in October,' said the BBA's David Dooks. All in all, net new lending for the year is now expected to be about 60% down on last year's total.
However, even this might seem healthy compared to the 2009 figure, if Sir James is to be believed. Crosby, who was commissioned by the Treasury to look into the ailing mortgage market, reckons that in 2009 banks might be loaning out less money than they get back from people paying off their mortgages – which means the net flow of money into the housing market will be negative. This, he says, will only serve to depress house prices even further, which could lead to slower consumer spending and rising unemployment. And it will also have a disastrous effect on UK housebuilders, who are seeing their orders dry up entirely because prospective buyers can't get a mortgage.