Mothercare (baby) booming as it plans expansion
Mothercare's latest results seem to suggest that we've been using the recession to have babies...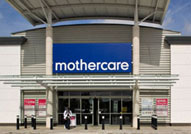 There aren't many high street stores that can say the downturn has been good for business. But the fact that cash-strapped couples are opting to stay in rather than go out seems to have had a positive outcome for Mothercare (so to speak): it's just announced that sales for the six months to October were up 8% on the same period a year ago. A recessionary baby-boom, perhaps? Either way it's good news for Mothercare, which is now planning to create 400 new jobs by opening 12 city centre stores and 31 out-of-town 'parenting centres'. That's a pretty bullish expansion plan – no baby steps there for chief exec Ben Gordon...

Mothercare seems to have had a pretty good six months. Business is booming for its international arm, with retail sales up an impressive 30%, while in the UK, underlying profits jumped 15%. A large chunk of this was down to the company's out-of-town 'parenting centres', which incorporate both its Mothercare and Early Learning Centre brands and now account for 65% of UK profits. Quite rightly, Mothercare wants to build on the new format's success by opening lots more of them – 31 in the next three years, to be precise, including at least 10 this year. There'll also be 12 new 'landmark' stores in city centres.

It's not all good news, however. As well as these new store openings, there are also likely to be closures: Mothercare has already shuttered 63 of its badly-performing in-town stores, and a further 90 face the same fate within the next three years if they don't up their game. Landlords should brace themselves for some hard bargaining – Mothercare reckons it might start moving loss-making stores to cheaper out-of-town locations if it can't renegotiate rental payments.

Still, news of any retailer chalking up double-digit sales growth and opening new stores – creating 400 jobs in the process – is not to be sniffed at. Ben Gordon has certainly shaken things up in the first 18 months of the overhaul he began after the £85m acquisition of ELC. Let's just hope he's not trying to run before he can walk.

In today's bulletin:
MT meets Marc Bolland - the new chief exec of Marks & Spencer
Archie Norman to the rescue at ITV?
Counter-bid rumours sweeten Cadbury share price
Mothercare (baby) booming as it plans expansion
Psychology at Work: Promoting well-being is not just a sticking plaster