Mothercare turnaround plan starts to bloom
The ailing babywear emporium has returned to profit for the first time in three years.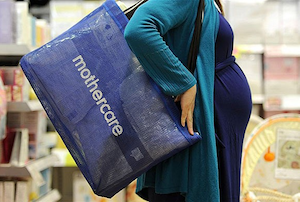 Today is a good day for Simon Calver, chief executive of Mothercare; it's under two years since he was lured from LoveFilm to take on the kiddie retailer's turnaround challenge and the fruits of his labour (pun intended) are already starting to show – the company is back in the black, for the first time since 2010.

The group has reported underlying pre-tax profits of £2m for the 28 weeks to 12 October, overall sales figures have risen 4.4% to £637.7m. But before you start praising the UK's summer of sun and the royal birth for stirring our appetite for babygrows - the improved figures have been driven largely by the retailer's overseas efforts. So much for those Future Prince toddler t-shirts.

Total international sales were up 13%, while total UK sales were down 7.5%. The UK operations are still in the red, with losses of £14.9m – still, £2m less than the corresponding period last year, as the retailer continues to stem the negative numbers. Restructuring has helped; fifty six Mothercare stores have been closed in the UK, there's been an increased focus on its online offering and an improvement in its customer service.

'The benefits of the changes we are making to the business are clear, with a return to underlying profit,' said Calver.

'In the UK, online sales are growing and customer surveys indicate improving satisfaction rates. We continue to target a return to profit in the UK and the reduced UK operating loss this half year is a step in the right direction.'

Echoing the sentiments of many British retailers, Calver made the point that while economic indicators are pointing to a strong recovery, the public's purse strings are still held tighter than Kim Kardashian's hot pants.

'We are planning for consumer spending to remain subdued in the UK during the second half of the year,' he warned. 'We have made progress with our Transformation and Growth plan, but there is more to do.'

Back in July, Calver took a pot shot at his predecessors, claiming the previous management had, 'lost sight of some of the retail basics.'

Well, where Calver is concerned it looks like P is for Profit, O is for Online, I is for International and U is for underperforming UK. Oh well….