Motor Mouth: The Alfa Romeo MiTo
It's hyped as the sportiest compact on the market, but Sathnam Sanghera struggles to find the fun in it.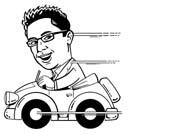 The longer I write this column, the more it feels like having an extra-marital affair. Not because of the sexual tension that hangs between me and my MT colleagues, but because I'm forever telling myself, like a guilt-ridden, unfaithful husband, that I'm going to give it up soon.
The cars are becoming impractical. I've moved to a flat with no parking space, which means my fees go straight to Camden Council in fines. Also, I'm not a very good driver, and although I've never had an accident, it's a numbers game, isn't it? There have been near-misses - I still have nightmares about the Bentley I nearly drove head-on into a VW Golf on a country lane - and I should quit while I'm ahead.
This feeling has never been more intense than in the week I spent with the Alfa Romeo MiTo. When I wasn't removing yellow tickets from underneath the wipers, I was veering dangerously out of lanes, turning blindly into blind corners, and generally causing other motorists to beep and gesticulate. It was like the Wacky Races.